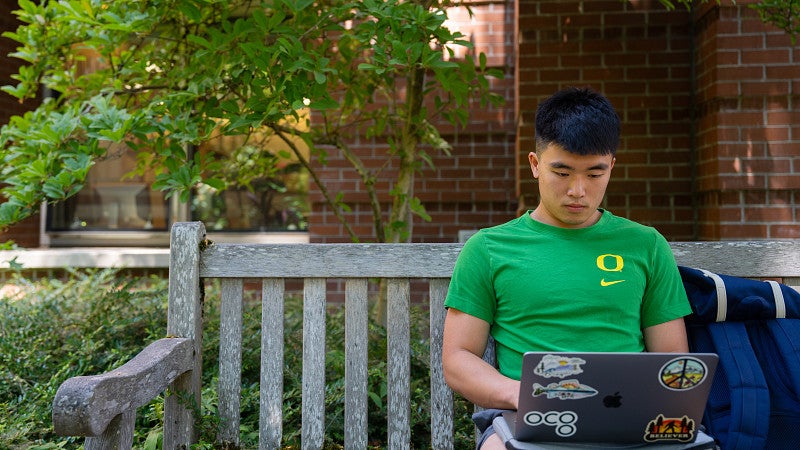 Incoming Students Visa Checklist
Information for J-1 visa, F-1 visa, F-1 SEVIS transfer, and financial verification for graduate students. 
If your plans change and you do not plan to attend the University of Oregon, please send an email to International Student & Scholar Services at intl@uoregon.edu.
Because you are currently attending a U.S. educational institution, or are completing Optional Practical Training (OPT), you must have your active SEVIS record transferred to the UO. Contact an international student advisor at your current institution to notify them that you intend to request the transfer of your SEVIS record to the UO.
1
Notify UO of the Transfer of your SEVIS Record
---
2
UO Transfer Policy Guidelines
---
---
---
5
F-1 Visa and Transfer I-20
Financial Verification For Graduate Students
International students who will be sponsored by the University of Oregon in F-1 or J-1 visa status must first obtain a "Certificate of Eligibility" Form I-20 or DS-2019 in order to apply for a visa, or request the transfer of an existing "active" F or J SEVIS record to the UO. Verification of a student's financial capability to pay tuition, fees and living expenses for at least the first year of study is required before Form I-20 or DS-2019 can be issued, or for an existing "active" F or J SEVIS record can be transferred to the UO.
Exception: If you meet one of the following criteria, you are not required to submit evidence of financial resources. Skip to the bottom of the page and submit page one of the Personal Information & Financial Verification Form.
In a non-immigrant status other than F-1 or J-1 (i.e. E2, L2, H4, J2, etc.)
In asylee or refugee status
In undocumented status
In US permanent resident status
1
2024 Total Estimated Cost
---
2
Personal Information & Financial Verification Form
1
Receive DS-2019 from ISSS
---