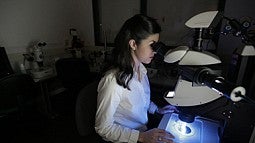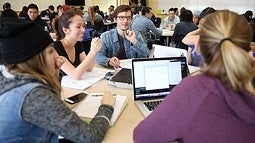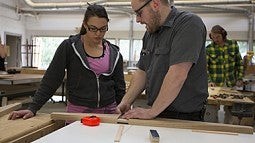 Apply to study at the University of Oregon
Study with us for a few weeks, a few months or a year on a short-term program, student exchange program or study abroad/visiting student program, and experience the culture and life of Oregon while you get your degree back home. Over 300 visiting students join us each year to study, joining the lively population of 24,000 domestic and international degree-seeking students already here.
To come to us on exchange or study abroad/visiting student program for at least three months, your home institution must be one of our partners and you must be nominated by them to be eligible. For a complete list of partners, please see  https://isss.uoregon.edu/partners  Please consult with your university's study abroad or mobility office to view the application requirements.
We also offer the 2-, 3- and 4-week Oregon Experience Program, designed exclusively to help students explore American university life, learn about topics related to sustainability, emergency preparedness and health, and connect with the culture and people of Oregon through hands-on experiences and excursions. Check out the Oregon Experience Program website at https://isss.uoregon.edu/experience. You don't have to be studying at a partner institution to join our Oregon Experience Program.
Available Programs
Exchange program (Partnership contract)
Visiting non-degree program (MOU)
Customized non-degree program (Partnership contract)
Short-term programs, all ages, 1 week to 4 weeks (no contract required)
Internship programs (no contract required)