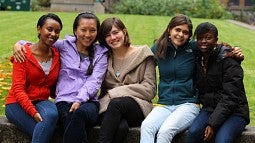 Information for students with F-1 Visas
If you have an I-20 and are currently in F-1 visa status please look through the topics at the bottom for answers to your frequently asked questions. Please keep in mind that immigration regulations are detailed and can become complicated quickly. Come to drop-in hours Monday-Friday if you have any additional questions.
---
In order to remain in status, you must follow the immigration and visa information carefully. There are many academic requirements that keep you eligible for F-1 visa status. Please e-mail the SEVIS coordinator if you have any additional questions.
There are many on and off campus employment opportunities available to international students. You can work while taking class or apply for a work visa after graduation. Visit the Career Center for help with résumés and interviewing skill in the US.
Paying for college can be a challenge for many students. There are many opportunities for students to creatively pay for tuition and essential needs. In addition to scholarships there are many ways to help pay for school.